When Mike Smith enters a livestock barn in North Carolina, whether a county fair or the NC State Fair, you would think he was a local celebrity. Truth be told, to many of those who participate in NC livestock events, Mike IS a local celebrity. There's no shortage of families that offer seating, snacks, and most importantly, hugs to a kindhearted man that has become extended family to those in the barn.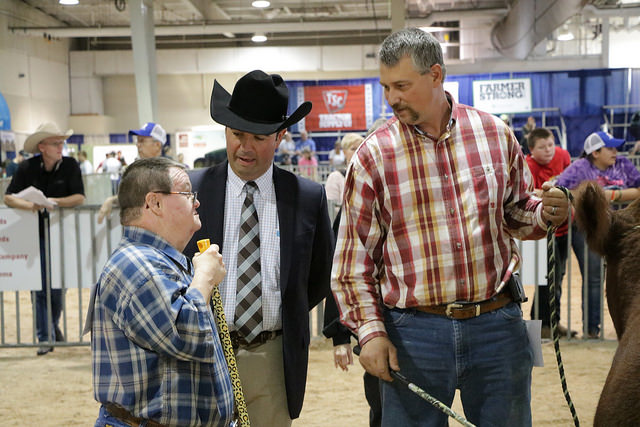 On Sunday, October 15, 2017, Mike's celebrity status reached an all-time high, with his induction into the NC State Fair Livestock Hall of Fame. While most of the Hall of Fame inductees are lifetime breeders or financial sponsors, Mike, along with Mrs. Carol Turner, were selected for their roles in establishing a NC State Fair Competition that, for many years, was unique to our state – the NC State Fair Special Awards Livestock Show.
Mike is unlike any Hall of Fame Inductee before him; he was born with Down syndrome, a genetic disorder classified as a disability in the United States. But what some see as a disability, Mike never saw as a hurdle, and neither do those who love him. He has an amazing mind for numbers, loves children, and has always enjoyed being around livestock and fairs
In the late 1980s, Mike began traveling with his nieces as they competed in livestock events. While at those events, Mike's job was to pick up manure from behind the cattle! When you heard Mike yell "PHONE CALL," you knew it was code for 'an animal left behind a pile of manure to be picked up.' And you didn't dare try to do it yourself – it was Mike's job, and he was good at it!
In the mid-90s, Mike began to ask why he wasn't able to show when he traveled with, assisted, and watched his nieces enter the ring time after time. So, several county fairs would allow Mike to walk an animal through the ring before the shows started. But the NC State Fair was different – it was big, it was busy, and it didn't have time to let one person walk through the ring.