Tomorrow night marks the premiere of Season Four of the hit PBS show A Chef's Life, which "follows the trials and travails of Chef Vivian Howard and her husband, Ben Knight, and their farm-to-table restaurant, Chef & the Farmer, exploring both traditional and modern applications of quintessential Southern ingredients." The show won a Peabody Award in 2014 and a Daytime Emmy Award in 2015, and has received plenty of critical acclaim so you should definitely tune in.
North Carolina Farm Bureau has been a long-time supporter of the show because of its loving and honest depiction of life and farming in Eastern North Carolina. And as more consumers come to link their opinions about food with their understanding of farming, A Chef's Life provides an honest and unsensational glimpse into the life and work of farmers.
In a recent interview with Frank Stasio on WUNC's The State of Things, Howard shared how her life in Eastern North Carolina has shaped her view of farmers and explained why she thinks it's so important for the show to highlight her interaction with local farmers:
I grew up in a family of farmers and in a community made up entirely of farmers and I think that . . . I always said I would never marry a farmer because I thought it's the hardest job on earth, and I think that farmers are underrepresented and misunderstood and often portrayed in media as dumb. And farmers are the smartest people I know and they're such an important part of the fabric of our country, and I feel like their story needs to be told more and it needs to be louder. So yeah, I consider myself an advocate for farmers.
Season Four of A Chef's Life premieres in North Carolina tomorrow night, September 8th at 9:30pm on WUNC-TV.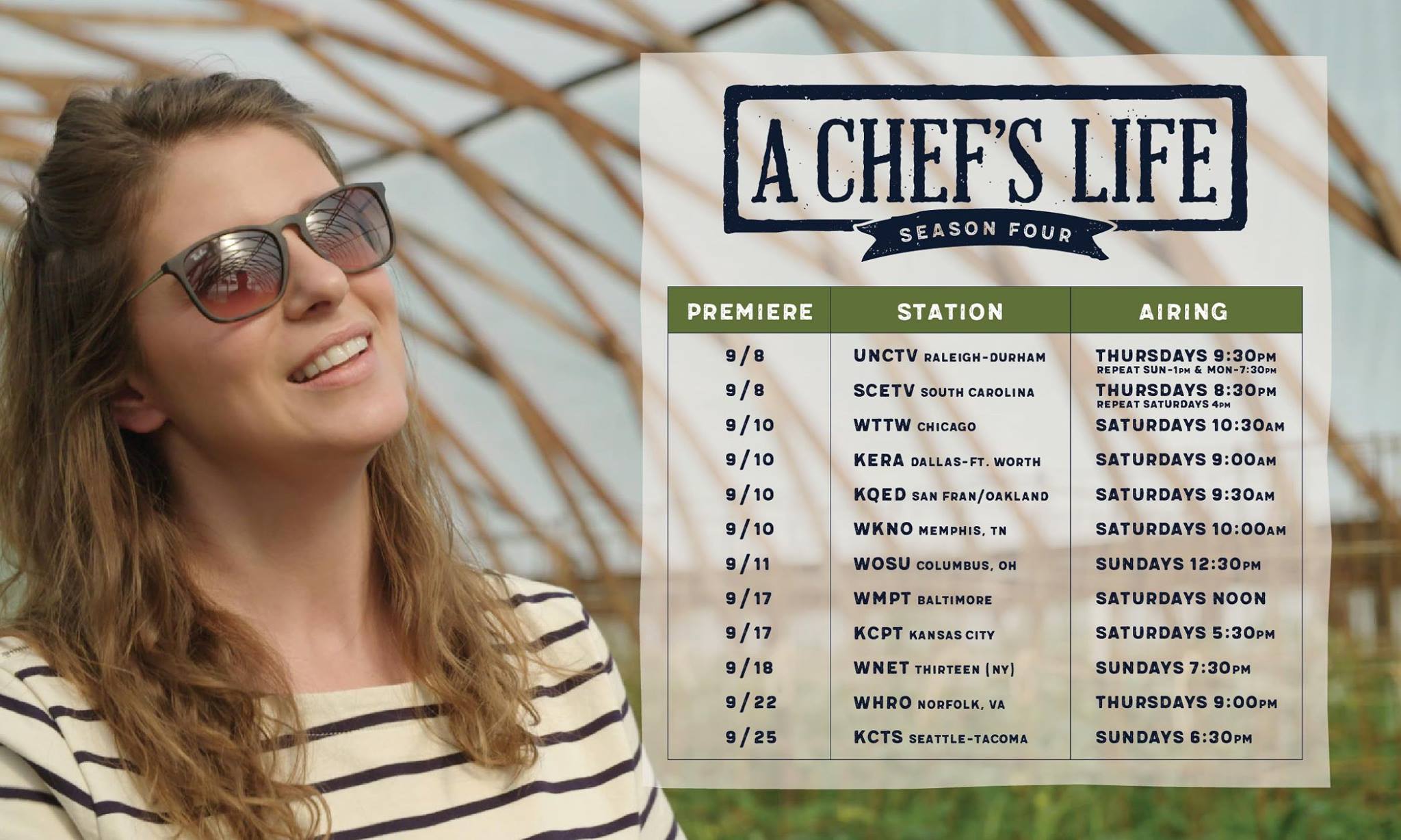 On top of this fall's new season of A Chef's Life, Howard is also filming Season Five and releasing her first book, Deep Run Roots: Stories and Recipes from My Corner of the South. Just like it sounds, the book promises to be both cookbook and storybook, sharing some of the tales and traditions of Southern food. The book is scheduled for release on October 4th and is available to pre-order now. To promote the book, Howard will be traveling around the Southeast this fall with a food truck in tow, so if you'd like to meet her check out the previous link for a list of appearances. If you can't make one of those events, the Season Four premiere party is this Sunday, September 11th in Kannapolis, NC.