Written by Dr. Randy Woodson, Chancellor of North Carolina State University.
This Saturday, November 19 at Carter-Finley Stadium, the Wolfpack not only play host to the Miami Hurricanes, but we will also be celebrating our 4th annual Ag Day, a time to recognize the many contributions that agriculture and our farmers make to our state. Agriculture built North Carolina, and people around the world depend on what's raised and grown right here at home.
NC State University and the faculty and staff of the College of Agriculture and Life Sciences work hard with partners across North Carolina to ensure our state's agriculture remains strong. Because of these combined efforts, remarkable things are happening.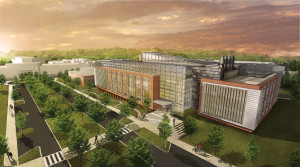 Take the Plant Sciences Initiative (PSI): This $160 million initiative, designed to make North Carolina and NC State the world's go-to place for plant sciences research and outreach, has moved from dream to reality in less than two years. It was envisioned by farmers, championed by state leaders, voted on by the state's people and funded not just with voter support but also with the support of more than 44 agricultural organizations, including program support funds from the North Carolina Farm Bureau.
It took extraordinary passion and support to make the PSI happen, and I am seeing the same level of passion coming together to help North Carolina agriculture tackle one of the biggest challenges it's ever faced.
Hurricane Matthew caused catastrophic damage in Eastern North Carolina, with floodwaters washing away many farmers' hopes of a rebound from last year's tough weather-related losses. But these farmers are passionate about what they do, and determined to get agriculture growing again. Extension agents and specialists share that same passion and have worked tirelessly to help farmers, families and communities affected by the storm secure the expertise and assistance they need to recover.
Working together is also essential to tackling another challenge faced by North Carolina's agricultural community. That challenge is student access to education, and it has long-term implications for agriculture. As agriculture works to address the grand challenges of feeding and clothing a growing world population, it needs well-educated, motivated leaders. But competition for students applying to NC State is stronger than ever before.
To help tomorrow's agricultural leaders find their paths to NC State, CALS has three notable programs: ASPIRE is an ACT prep course that helps rural North Carolina high school sophomores and juniors become more competitive when they apply to NC State, and STEAM gives students interested in agriculture the option of coming to CALS through a combined summer session at NC State and a year of classes at a North Carolina community college or other institution.
The third program is a new online effort called "Nominate a Student".  For this program to be successful, we need your help. If you know of promising students in your community, tell us about them. We will work to make sure they know about opportunities in agriculture and life sciences and to provide guidance on the NC State application process.
These are just a few of the ways that NC State is working with our partners to ensure North Carolina agriculture continues to grow. It's vital to our state and the world, and because of that, it's vital to NC State. So the Wolfpack nation is proud to celebrate Ag Day not just this Saturday but each and every day.
Thank you for your ongoing support of CALS and NC State, and I hope to see you Ag Day. Go Pack.