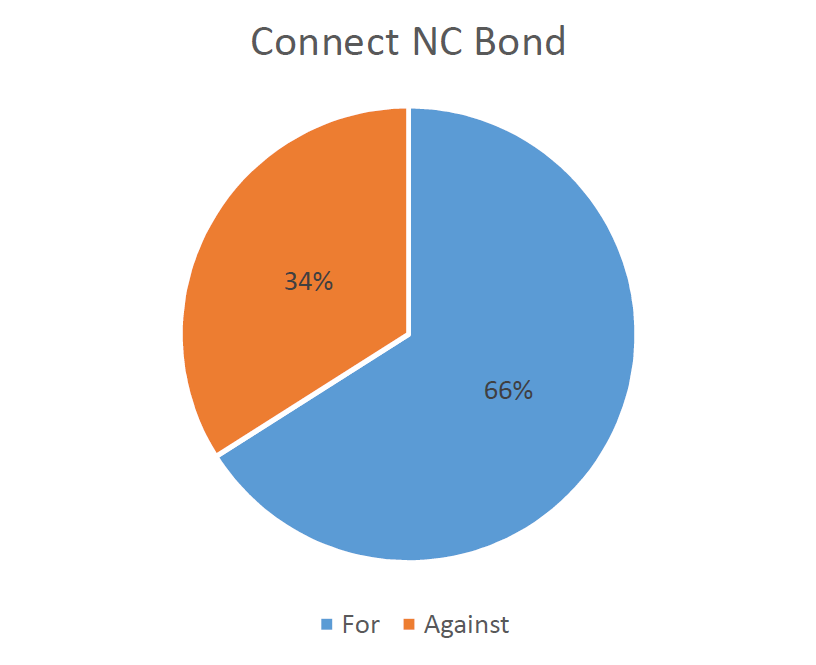 North Carolina voters last night passed the $2 billion Connect NC Bond that will strengthen food security and national security by making two investments in the future of North Carolina agriculture. NC Farm Bureau strongly supported the Connect NC Bond that provides $85 million for the Plant Sciences Initiative at NC State and $94 million for updating NC Department of Agriculture and Consumer Services (NCDA&CS) laboratories.
NC Farm Bureau President Larry Wooten said, "Having a safe and abundant domestic food supply is a fundamental part of our national security. American farmers, already some of the most productive and efficient in the world, will be asked to do even more in the future. As our population grows, farmers will need to produce more using less land and resources while overcoming conditions like droughts and diseases."
North Carolina and the United States must stay ahead of key challenges faced by agriculture. By investing in agriculture research, science and innovation, North Carolina will have the tools to address issues like resource shortages, bioterrorism and greater productivity as the global population is projected to increase from 6 billion to 9 billion by 2050.
The Plant Sciences Initiative at NC State will bring world-class researchers and outstanding students to work side-by-side with agriculture biotech companies to solve global issues in agriculture. Additionally, this applied research will help North Carolina farmers increase crop yields, extend growing seasons, manage drought conditions, and use water and pesticides more efficiently.
"By funding the Plant Sciences Initiative, voters have invested in a tool that will drive agricultural innovation, giving farmers the technologies and techniques to address these challenges as they continue to provide food for America and the world," said Wooten.
The bond also provides NCDA&CS with essential infrastructure to keep domestic food supplies safe. The Department's new co-located lab will replace five existing labs which on average are more than 40 years old. Among other things, these labs are responsible for identifying a foreign animal disease or bioterrorism agent, testing international shipments of poultry and livestock, and testing the safety of food and animal feeds.
"These updates to the NCDA&CS labs will allow the state to perform vital food security testing using the best technology available and help ensure we have a safe and wholesome food supply," said Wooten.
Wooten added, "By funding these two important projects, voters have helped North Carolina farmers take the right steps to strengthen our food security and, in turn, our national security."