America's rural transportation system is in need of repairs and modernization to support economic growth in the nation's Heartland, which is a critical source of energy, food and fiber. Rural America is home to an aging and increasingly diverse population that is heavily reliant on the quality of its transportation system. This is according to a new report released today by TRIP. The report, Rural Connections: Challenges and Opportunities in America's Heartland, evaluates the safety and condition of the nation's rural roads and bridges and finds that the nation's rural transportation system is in need of improvements to address deficient roads and bridges, high crash rates, and inadequate connectivity and capacity. TRIP is a national non-profit transportation research group based in Washington, D.C. The chart below shows the states with the highest rate of rural pavements in poor condition, states with the highest share of structurally deficient rural bridges and those with the highest fatality rates on non-Interstate, rural roads.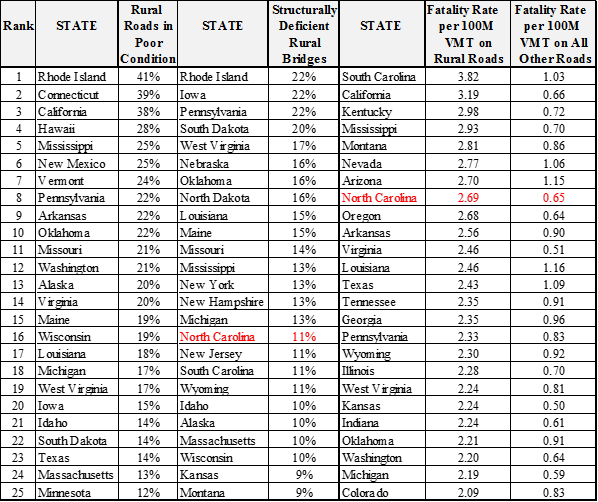 The report finds that ten percent of North Carolina's rural roads are rated in poor condition and 20 percent are rated in mediocre condition. Eleven percent of North Carolina's rural bridges are rated as structurally deficient, the 16th highest rate in the nation. The rate of traffic fatalities on North Carolina's non-Interstate, rural roads – 2.69 fatalities per 100 million vehicle miles of travel – is the eighth highest in the nation and is more than four times higher than the fatality rate on all other roads in the state.
"Bridging the urban-rural divide to grow economic opportunity in every North Carolina community is critical to remaining one of the most competitive states for business," said Lew Ebert, president and CEO of the North Carolina Chamber. "Ensuring North Carolina's rural transportation infrastructure has the necessary resources to accommodate the state's rapid growth and increasing demand is vital to invigorating rural competitiveness. While legislative leaders have made infrastructure investments in recent years, they must continue to strengthen those investments by diversifying our revenue streams in order to fund the network in the years to come."
The quality of life in America's small communities and rural areas, and the health of the nation's rural economy, is highly reliant on the quality of the nation's transportation system, particularly its roads, highways and bridges. America's rural transportation system provides the first and last link in the supply chain from farm to market while supporting the tourism industry and enabling the production of energy, food and fiber. Rural Americans are more reliant on the quality of their transportation system than their urban counterparts.
"North Carolinians who live and travel on rural roads deserve a transportation system that is safe, efficient and reliable," said Tiffany Wright, president of AAA Carolinas Foundation for Traffic Safety. "With the creation of the Strategic Transportation Investments Program in 2013, North Carolina is investing more attention and funds than ever into fixing and repairing its roads and bridges. Hopefully, we will continue to see improvements which can make our roads safer for everyone."
The TRIP report finds that the U.S. needs to implement transportation improvements that will improve rural transportation connectivity, safety and conditions to provide the nation's small communities and rural areas with safe and efficient access to support quality of life and enhance economic productivity. The nation's ability to address its rural transportation challenges will be greatly enhanced if Congress is able to provide a long-term, dedicated, user-based revenue stream capable of fully funding the federal surface transportation program.
"First and foremost, having the eighth highest fatality rate on rural roads is a disturbing wakeup call. Poor road conditions that endanger the lives of rural North Carolinians and compromise our state's economy are unacceptable," said North Carolina Farm Bureau President Larry Wooten. "The quality of our rural roads has a direct impact on the economic viability and quality of life of our rural communities. Agriculture is the backbone of many rural economies in North Carolina and rural transportation provides the crucial first and last link in the supply chain from farm to market, while also supporting the tourism industry and enabling the production of energy, food and fiber. Securing appropriate funding and modernizing rural transportation systems is vital to the long-term safety, quality of life, and economic success of rural North Carolina."
Rural America is home to the vast majority of tourist destinations, many of which rely on good access. "Crumbling bridges, poorly maintained roads and congested highways discourage travel, threatening the entire U.S. economy," said Erik Hansen, vice president of government relations for the U.S. Travel Association. "Lawmakers have signaled their interest in finding solutions for America's surface transportation, as evidenced in passage of the FAST Act and the formation of the NACTTI advisory board. However, far more is needed–and fast–to finish the job."
"The safety and quality of life in America's small communities and rural areas and the health of the nation's economy ride on our rural transportation system. The nation's rural roads and bridges provide crucial links from farm to market, move manufactured and energy products, and provide access to countless tourism, social and recreational destinations," said Will Wilkins, executive director of TRIP. "Fixing the federal Highway Trust Fund with a long-term, sustainable source of revenue that supports the transportation investment needed will be crucial to the modernization of our rural transportation system."