Farming is a dangerous job. In fact, agriculture occupations, along with forestry and fishing, are routinely cited as some of the most dangerous jobs in America by the Bureau of Labor Statistics (BLS). Farmers operate heavy machinery, interact with large animals, and work in confined spaces like grain bins. And, farming is a physically demanding job, too. On top of all that is the simple fact that, like forestry and fishing, farming is a rural occupation and injuries often happen miles from the nearest hospital or medical professional.
In its most recent report, the BLS found that fatalities among agricultural workers rose to 180—a 22 percent increase—while fatalities among farmers, ranchers and other agricultural managers registered at 252. The majority of these fatalities were the result of transportation incidents and contact with objects and equipment. While other professions and industries also have high injury and fatality rates, farming, fishing, and forestry topped the list.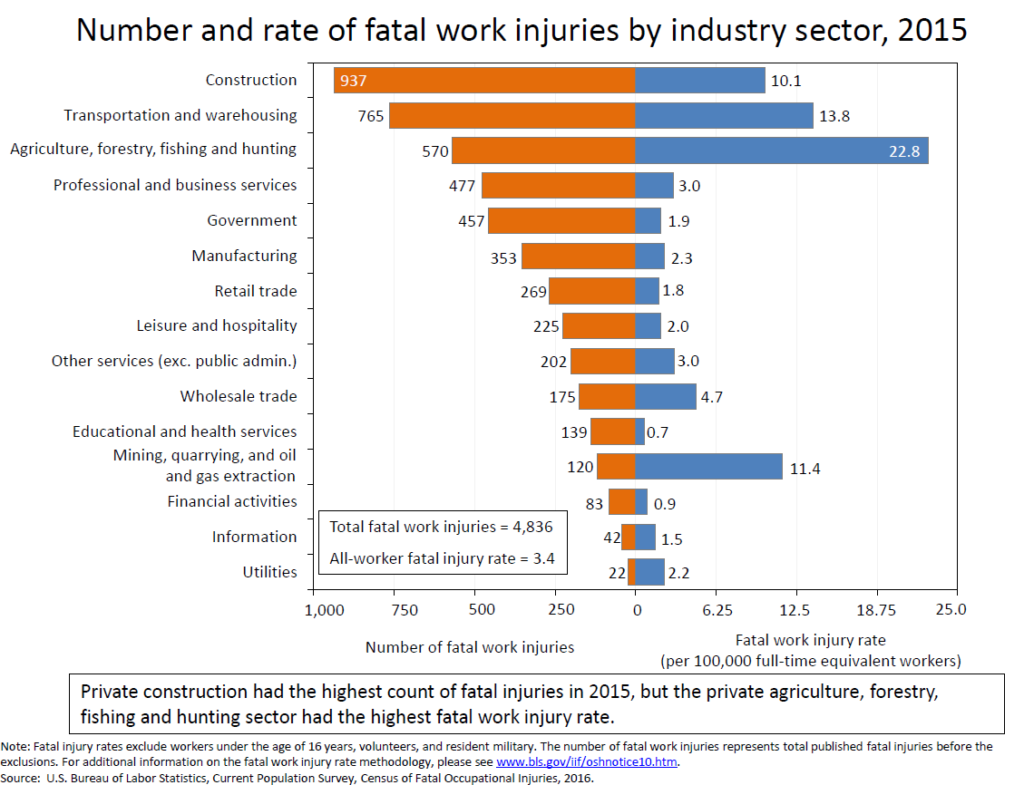 That's why health and safety are so important to Farm Bureau. This week is Agriculture Safety Awareness Progam (ASAP) Week, and the focus this year is SPACE. Topics include:
Confined spaces – These are spaces with limited access or poor ventilation that are not intended for human occupancy. Dangers include falling into grain bins and asphyxiation from noxious gases.
Animal space – Anytime you work with live animals you need to be careful, but that is particularly true with large animals like cattle and horses. Knowing how to handle livestock and understanding how animals will respond to your presence is vitally important for anyone involved in animal agriculture.
Equipment operator space – Farm equipment is large, heavy, and dangerous. It's important that farmers are patient and use caution when operating their equipment to avoid deadly tractor overturns and gruesome injuries when fixing machinery.
Electrical space – It may not be the first thing you think of, but the danger of electrical shock and electrical fires is an everyday reality for farmers. Between overhead wires and countless pieces of complex electrical equipment, farmers need to be attentive at all times.
Driver space – Nobody likes being stuck behind a slow-moving tractor. But sometimes farmers have to drive their equipment on public roads. Both farmers and motorists should be patient and considerate of one another when sharing the road. Most of the time, the equipment will be on the road for five minutes or less, and passing farm equipment is not safe for anyone. Last year, North Carolina Farm Bureau partnered with the NC Department of Transportation and the NC State Highway Patrol to raise awareness of and encourage patience around slow-moving farm equipment.

On March 1st, NC Farm Bureau held its Safety Conference at North Carolina A&T University Educational Farm. The conference is geared towards farmers and farm families, and the purpose is to teach attendees how to coordinate safety programs locally in their communities with the goal of reducing farming accidents by increasing safety awareness. Attendees learned everything from farm first aid to respiratory protection and equipment safety on highways.
Farming may be an inherently dangerous job, but Farm Bureau is dedicated to helping farmers and farm workers have the safest, healthiest work environment possible. To learn more about NCFB's Safety Program click here, and Agriculture Safety Awareness Program Week here.