If you've watched the news recently, then you've probably heard President Trump discuss trade deals such as the Trans-Pacific Partnership (TPP) or North American Free Trade Agreement (NAFTA). While we aren't going to get into the details of either trade deal, we do want to emphasize the importance of agricultural exports to our economic success as a nation and here at home in North Carolina.
Agricultural Exports in the U.S.
To keep it short and sweet, the graphic below demonstrates the importance of agricultural exports to the U.S. economy and lays out several good reasons why there is a great need for a trade deal that works for agriculture. Two key points to pay careful attention to:
The $129.7 billion in total value of U.S. agricultural exports actually surpassed USDA's forecast
The $1 Trillion in total value of U.S. agricultural exports since 2009 is the strongest period for U.S. ag exports in history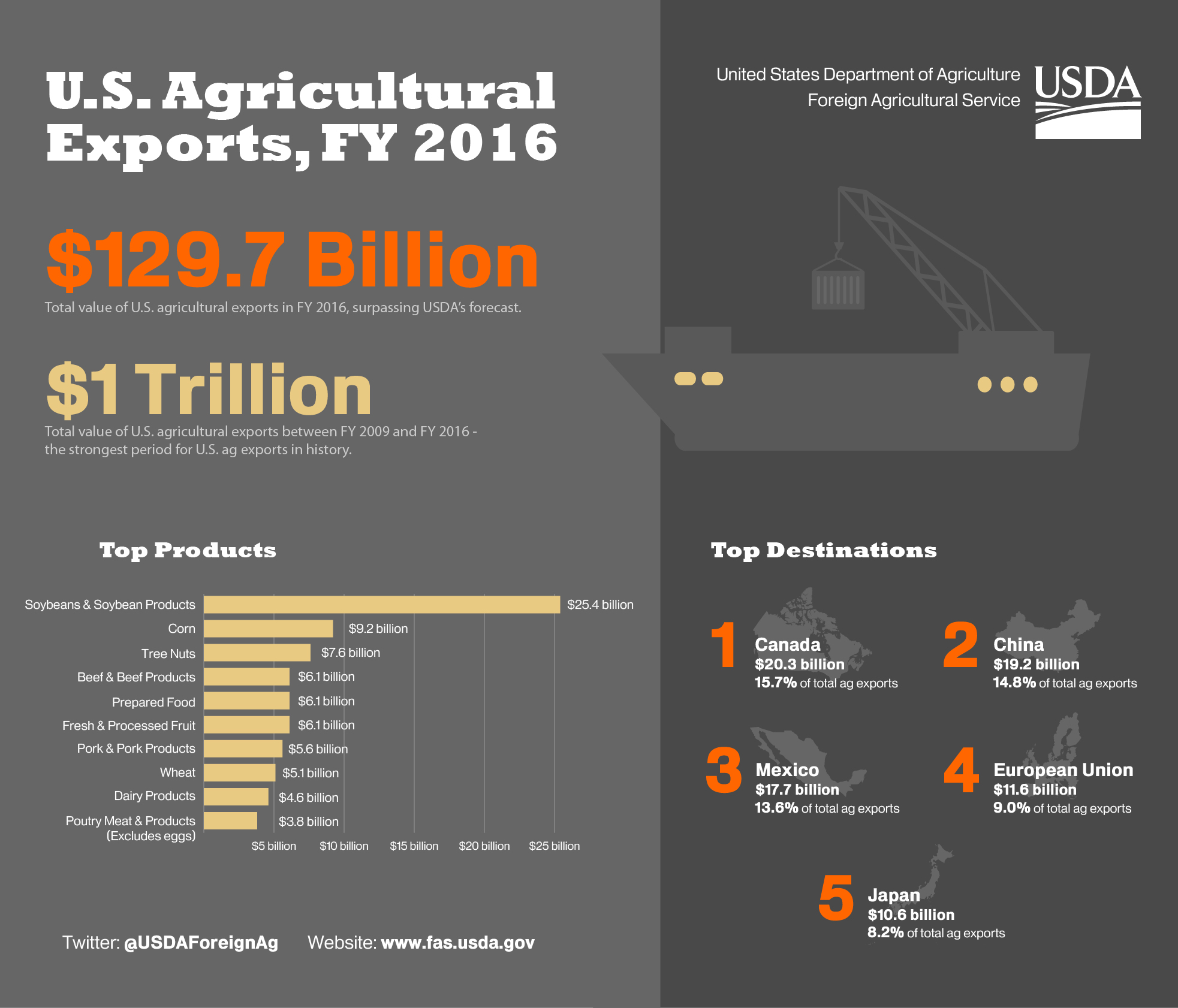 North Carolina
Lucky for you, First Furrow has already taken an in-depth look at the booming agricultural export market in North Carolina.  Here's the Cliff Notes version (or tl;dr if you're a Millennial) if you want a few quick facts:
"…the USDA estimated that every $1 billion of agricultural exports required 7,550 jobs in 2014—for a grand total of 1,132,000 jobs in both the farm and nonfarm sectors.
So how does North Carolina agriculture fair in global markets? Very well, it turns out.
Since 2005, the value of North Carolina's ag exports have nearly doubled.
In 2013, top export commodities included tobacco ($562 million, #1 nationally), pork ($739 million, #2), poultry ($669 million, #2), cotton ($328 million, #5), fresh and processed vegetables ($145 million, #13), and fresh and processed fruits ($72 million, #14).
North Carolina is also home to one of the best examples of successfully marketing an agricultural commodity overseas: the sweet potato. North Carolina has a long history of growing sweet potatoes and the state has been the number one producer in the country since 1971, growing between 300 and 500 million pounds of sweet potatoes each year up until production began to rise in the early 2000's. In recent years domestic consumption of sweet potatoes has increased dramatically—up nearly 80% since 2000—but sweet potatoes haven't always been a huge staple in the American diet. However, developing countries in other parts of the world, namely sub-Saharan Africa, parts of Asia, and the Pacific Islands, rely heavily on sweet potatoes for food and animal feed. And now the sweet potato is catching on in Europe, too."